Director's Message
November 22, 2023
2023-11-22 9:47
Director's Message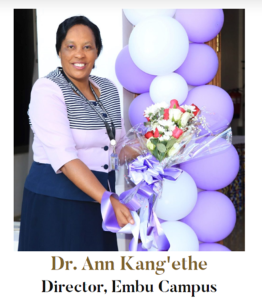 Kenya School of Government is a Premier National Institution that model the Public Service. As a flagship project of Kenya Vision 2030, the School was established to perform a monumental mission of empowering the Public Service with the core skills and competences that government officers require to deliver government business for transformation of Public Service.
The School has remained truthful to its Core Mandate – Training, Research that inform public policy, Consultancy, Advisory and Outreach Services. We offer various capacity building programs that run from the point of entry, growth and exit of government officers. Specially, the School runs induction, Career Progression or Promotional programs, Skills Enhancement and Retirement Planning Programs to officers of all cadres in National and County governments, Parastatals, Independent Commissions and the Private Sector.
To deliver on the Core mandate, the School has strategically located Campuses across the Country including at Lower Kabete, Mombasa, Baringo, Matuga and Embu. The KSG Embu Campus is ISO 9001:2015 certified institution. The Campus is located in Embu town along the busy Nairobi –Meru highway, lying on the Eastern slopes of Mt. Kenya. The Campus neighbors other learning institutions in this serene environment like the University of Embu and the Kangaru Boys High School.
The KSG Embu Campus has modernized facilities for training; executive conferencing facilities; computer-aided learning workshops which include two ultra-modern auditoriums with a cumulative capacity of up to 300 participants. At Embu Campus, participants are at home away from home with befitting accommodation and quality meals in attractively set up restaurants.
The Campus offers a unique bouquet of refreshing activities such as mountain-climbing, nature walks, student picnics, and jogging terrain where participants get an opportunity to share tracks with renowned Kenya's world-class athletic champions. Equally, on a need basis, the Campus organizes visits to the nearby Mwea National Reserve, and the undulating valleys and hills of the Mt. Kenya slopes to the West with the Mbeere Hills and plains of Ukambani to the East as well as seven forks hydro-electric project.
The Campus takes cognizance of the diversity of the training needs of clientele and has a holistic offer of programs with extension of collaborations which strengthens the Campus visibility, revenue generation and outreach responsibilities to reach out the community, to support global SDGs; AU Agenda 2063 and Kenya National Development Agenda including the Vision 2030. 
Welcome to our beautiful Campus and patronage on programs and available facilities.